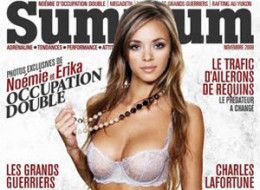 Federal grants worth $190,000 for two Quebec magazines,
Summum and Summum Girls, featuring scantily-clad models
are under fire in the wake of broad arts cuts announced in
the last Conservative budget.
"Radio-Canada is reporting that Canadian Heritage approved the financing for Summum and Summum Girls, as part of the federal periodical fund earmarked for Canadian publications."
What are the Harper government's priorities? They have cut programs for the women's rights groups and social programs for the poor but they like scantily-clad young girls. Where is Harper taking us? Maybe Harper should join hands with Larry Flynt of Hustler Magazine.
Read the story
here
.
Update:
For the fans of Summum Magazine it is available on
E-Bay
.:)It is even racier than I originally thought. Harper's next job: to manage this Magazine.
Recommend this post