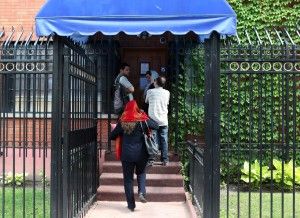 People wait at the door of the Iranian embassy in Ottawa to collect passports,
Friday September 7, 2012. Canada has closed its embassy in Iran and is
expelling all remaining Iranian diplomats in Ottawa.
THE CANADIAN PRESS/Fred Chartrand
Ideology over reality as Harper radically restructures Canada's role in the world, away from peace-keeper, to a George W. Bush style unilateralism on the military, pariah on climate change, and a sacrificing of our independence through joint embassies with the United Kingdom. Canada has a lot to offer the world – Mulroney took a decisive stand against apartheid going against Reagan and Thatcher, Trudeau and Pearson were powerful presences on the world stage.
Harper doesn't care about this legacy, he doesn't see much role for Canada as a productive force on the world stage.
"Canada's windows on the world are gradually being closed. This is happening quietly and with little notice or debate — but with an obvious sense of ideology. Having lived and worked outside of Canada for four of the past five years — in the Middle East and Washington — I could see it in the radical restructuring of Canada's historic relations with various parts of the world, such as Latin America, the Arab world, China, East Asia and Africa. From the outside, these changes made little sense."
Read the story
here
.
Recommend this post