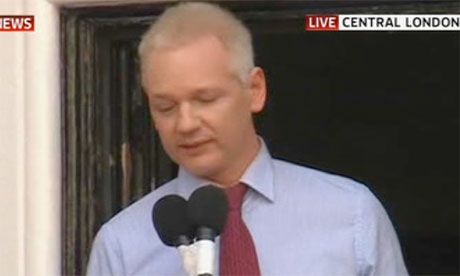 "Speaking from the balcony of the embassy, where he is staying to avoid arrest by British police who want to extradite him to Sweden, Assange said the United States risked shunting the world into an era of journalistic oppression.
"As WikiLeaks stands under threat, so does the freedom of expression and the health of all of our societies," Assange said, dressed in a maroon tie and blue shirt.
"I ask President Obama to do the right thing: the United States must renounce its witch-hunt against WikiLeaks," he said in a 10-minute speech which he ended with two thumbs up to the world's media."


Update: The video of Assange's statement.
Recommend this post